Vacation Home Property Management Services
Cal Vacation Homes offers luxury vacation homes in San Diego -- in and around the stunning area of Sunset Cliffs. Famously known for its panoramic ocean views and breathtaking sunsets, Sunset Cliffs is a friendly and quiet neighborhood located due west of downtown San Diego. Sunset Cliffs is home to several multi-million dollar homes and the 2 mile long oceanfront Sunset Cliffs Nature Park, a West Coast landmark where joggers, cyclists, and hikers enjoy the most unspoiled stretch of urban coastline in Southern California. If surfing interests you, you probably already know that Sunset Cliffs is one of the most sought after point breaks along the Pacific Coast.
While you enjoy the most amazing views in San Diego, you will also be within 5 to 15 minutes from all the major San Diego vacation attractions -- Ocean Beach, Mission Beach, Pacific Beach, La Jolla, Sea World, Old Town, the San Diego Zoo, Balboa Park, the historic Gaslamp District, Little Italy, and the San Diego Convention Center.
Whether you are celebrating a holiday, traveling to San Diego on business, enjoying a romantic beach getaway, or seeking a San Diego luxury home rental for a family vacation--Cal Vacation Homes offers a unique travel experience for travelers seeking the enjoyment of an oceanfront home.
Let Cal Vacation Homes provide you with the San Diego vacation that you will never forget!
Cal Vacation Homes is a multi-decade member of the San Diego Better Business that have earned their highest "A+" rating. We are also one of only twelve vacation home companies that are members of the San Diego Tourism Authority which is the official San Diego Tourism Authority at www.sandiego.org.
After we purchased our own San Diego rental home in 2000, our friends and neighbors took notice of the personal touches we brought to our business. Seeing our absolute commitment, our friends and neighbors asked us if we could assist them with booking their multi-million dollar properties. Our family-owned corporation, Bear-Dog Enterprises, Inc. doing business as Cal Vacation Homes, Inc. handles all the booking, reservations and hospitality operations of all the vacation homes that we do not personally own.
We greet all of our guests in person upon arrival and give each one a comprehensive Orientation Tour in which we answer every question you may have about shopping, restaurants, things to do, the area and every aspect of the home. We strive to know our customers better than large impersonal companies (you are familiar with these rental companies as the pick-up-the-key-at-the-management-office rental companies).
We thrive on our repeat guests that come back to stay with us year after year. We survive and flourish on word-of mouth referrals by our past guests. We consistently over-deliver on the hallmarks that make small businesses great: service and value to our guests.
We have one overriding goal--to provide the absolute best vacation home rental experience to our guests for a price that cannot be matched at comparable properties.
Joseph and Julia
(310) 927-9063
8 a.m. to 8 p.m. PST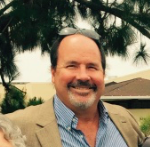 About Joseph Rohn, Owner of Cal Vacation Homes, Inc.
Joseph got his start in the vacation home industry in 1991 (pre-Internet for vacation homes) when he managed a fully furnished 8,000 square foot home in Beverly Hills that he rented short term to people in the Entertainment business using ads in Variety and The Hollywood Reporter. The following year, Joseph was asked to represent a Cabo San Lucas oceanfront vacation home which he kept booked by running tiny 4-line Ads in the back of Sunset Magazine--and later becoming an internet vacation home pioneer in 1997 with one of the first 2300 VRBO listings ever!
In 2001, Joseph purchased a Sunset Cliffs San Diego to rent as a vacation home--followed by renting his Westwood home as a vacation rental in 2004 and then purchasing a second Sunset Cliffs oceanfront home in 2007 which soon became his most successful rental. Joseph founded Cal Vacation Homes, Inc. in 2002, to represent homeowners wanting to rent their homes as vacation rentals--growing the company into the market leader in the Sunset Cliffs sub-market in San Diego--currently representing 12 Sunset Cliffs vacation homes with most of those being oceanfront homes.